''It's a game we're looking forward to and we go into it believing we can win'' said boss Michael Appleton in todays programme prior to kick off at Ewood park where Blackburn Rovers host bottom of the championship table side, Peterborough United.
A busy yesterday saw Rovers sign Manchester United graduate, 21 year old Cameron Stewart (currently playing for contenders of the title - Hull City) on emergency loan till the end of the season. He was signed in time for inclusion in the squad against Peterborough and has been given squad number 32.
While rumours of the potential signing of David Jones (28 year old centre midfielder, currently playing for Wigan) circulated late last night, nothing was completed until mid morning, when it was confirmed that the much needed midfielder had signed on emergency loan until the end of the season. Jones has said he is "delighted to be here" and wants to "make an impact." He was also signed in time to be played and has been allocated squad number 36.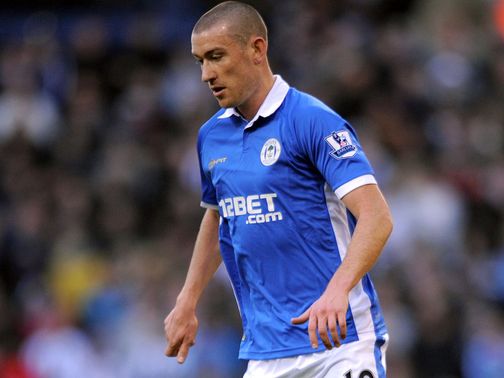 Centre mid signs for Rovers
We set off at 10:30 and had a relatively easy journey up the M6, only being held in a queue once while a minor accident was being taken care of. A quick service stop at Charnock Richard meant that I was greeted with Burger King's new, slightly chunkier fries, which after deep consideration I decided I was indifferent to the new change, as they tasted exactly the same.
We arrived at Ewood, and went straight up to the stand. Venky's were arriving ahead of today's game, and to be quite honest, I didn't want to be surrounded by a ferocious crowd of boos prior to the players performance. As of late Venky's haven't really done anything wrong, they have appointed a sensible manager, backed him and presented him with sufficient funds to reform his squad, and Shebby Singh, Derek Shaw and Paul Agnew seem to have disappeared, allowing 100% focus on matters occurring on the pitch, rather than behind closed doors.
The crowd at Ewood seemed to have dwindled in numbers comparatively to the previous weeks draw against Leeds United. Peterborough appeared only to have brought a few coaches of fans with them.
The squads for each side are as follows:
Blackburn Rovers:
Kean
Orr
Dann
Hanley
Rekik
Bentley
Lowe
Murphy
Olsson
Rhodes
Campbell
Subs: Sandomierski, Givet, Pedersen, Nuno Gomes, Stewart, Jones, Henley
Peterborough United:
Subs:
Day, Alcock, Brisley, Barnett, Knight-Percival, Ferdinand, Newell
Peterborough got the game underway as referee Scott Mathieson blew the starting whistle. The third minute brought Peterborough's first chance as Gayle finds Swanson, who fires with only Kean to beat. Already Rovers are making it easy for Peterborough to find space and break through.
The 5th minute sees Dj Campbell find Rhodes, who shoots but is blocked by Peterborough's defence. Straight after, Peterborough go on the break but the whistle is blown for a foul made further upfield by Hanley.
Olsson crosses the ball into the box in the 8th minute but Olejnik claims calmly.
The 11th minute sees Jake Kean stretch to make a double save, but Peterborough beat the defence and the keeper, as Gayle gives Peterborough the lead.
2 minutes later, a lack of movement as Bentley tries to cross the ball in proves fatal for Rovers as Peterborough go on the break once more, and Dwight Gayle finds the back of Jake Kean's net all too easily for a second time - doubling the visitors lead.
The 20th minute sees a lot of passing between Rovers back 4, but when Rovers finally move forward Murphy loses the ball a number of times in only a number of minutes, and soon the home fans become agitated.
Rhodes breaks through and goes on a run in the 25th minute, with Bradley Orr following closely behind, Rhodes loses the ball, and Peterborough claim it, to go on the counter attack and before the home fans can take it in, Dwight Gayle secures a hatrick in 27 minutes. Rovers fans are in utter shock. Chants of ''we want Murphy out'' ring from the Ronnie Clayton stand.
3 minutes later Olsson tries a cross to Rhodes who heads it but the keeper claims. Murphy's cross finds Scott Dann's head in the 38th minute, who directs it towards goal, and Olejnik is forced to make a save.

The 42nd minute sees Dj Campbell fire the ball into Peterborough's net, but the home fans are distraught as the goal is void when the whistle is blown for a Rhodes handball.
The following 3 minutes see little chance for either side, and 2 minutes minimum of extra time are to be played.
A hugely disappointing first half sees Rovers players walk to the dugout accompanied by an ensemble of angry boos. The display from the Rovers side has been extraordinarily poor, with a complete lack of passion. Skipper Danny Murphy, who with every average pass he completes follows suit with 3 times as many mistakes, and Bradley Orr using expletives towards the Jack Walker stand as they vent their frustrations towards him only adds to the atrocious first half.

Rovers have been making it all too easy for the travelling side, giving them far too much space up front, and with barely any challenges being made, it is no surprise that Peterborough have taken the lead.
The return of the players sees 3 changes made to the Rovers side, while the Peterborough side files out unchanged. David Jones makes his debut, replacing Danny Murphy, Henley returns to replace rightback Bradley Orr, and new boy Cameron Stewart comes on in Bentley's place.
Peterborough test Jake Kean almost instantly with a shot from Swanson who having got the better of Jason Lowe, forces Kean to save at the near post.
Lowe is booked in the 54th minute after a reckless collision with Swanson.
The 63rd minute sees loanee midfielder David Jones take the corner, he finds Rekik who sees his shot blocked at the near post and the whistle is blown for a foul.
3 minutes later, Scott Dann is greeted with the yellow card for a foul on Lowe's collision partner - Swanson.
Jordan Rhodes makes a break in the 72nd minute, taking it past two defenders and finding the back of the net with his left foot. 3-1 Peterborough.
Campbell gives the ball to Lowe who presents a strike, but the ball goes just wide of the post. Still 3-1 Peterborough.

The 86th minute sees a cross towards goal by Rhodes, Olejnik slides to claim and as he does it appears that the ball has crossed the line. Rovers fans think they have scored but the goal isn't given and they are furious.
A minimum of 4 minutes added time is given, and David Jones is announced man of the match on his debut!

1 minute later, the man of the match loanee who arrived at Blackburn only hours ago, finds the back of the net with a strike and gives a second goal to Rovers. 3-2 Peterborough.
The rest of added time sees nothing for either side and the whistle is blown. The players receive boos, as despite a slightly better second half, the reality of it is 3-2 at home to Peterborough is simply not good enough.
The walk from Ewood back up to Parklands Way was a long one, despite the slightly warmer weather. A crowd of angry and let down fans marched up to their homes, as me and my Dad consulted each other with our post match analysis. Unfortunately we were both too livid to provide an objective opinion so we left further comments for the car journey home.
The most frustrating thing of all, is driving 2 and a half hours up the motorway to be greeted with a performance that involves no passion, love, commitment, fire or even effort. The first half was an absolute disgrace. No team should concede 3 goals in the space of 27 minutes, away or especially if you're at home.
However, credit where credit is due - Kean, Dann and Hanley put in a commendable shift week in and week out, and today was no different. They worked hard as usual. However other players seemed to turn up to work with a complete lack of motivation. Bradley Orr made a fatal mistake which lead to the second goal. The midfield was seriously poor with even Bentley worming out of challenges. Murphy was diabolical, providing the home fans with probably his worst performance of the season. Rhodes had no service as once again the midfield couldn't get the ball up to him through tactical, strategical passing, so attempted to simply hoof the ball upwards.
Appleton appeared to recognise the main instigators of concessions and brought both Murphy and Orr off. This responsive change was to have a huge impact on the game. Bentley also came off for Cameron Stewart. I was pleased with the substitutions as previously I had been concerned with the lack of changes Appleton had been appearing to make.
During the second half, new boy David Jones put in a harder shift than Murphy had all season, and arguably was the best player on the pitch. He was all over the field, making tackles, finding players, creating opportunities and taking a fairly decent free kick and corner when it came to it. Cameron Stewart seemed promising and added a bit of pace to the squad. Henley fell right back into place with the remainder of the back four and continued his form of working well with them. I also thought Rekik had a much better game today and seems to have found his feet a bit. I still think he will improve over the next few games, but compared to his performance against Leeds, he was considerably better.
Rhodes bagged a goal which gave a pinch of hope to Rovers fans, and Jones followed suit by scoring on his debut. It's a huge shame that Lowe's shot went wide of the goal, as we may have got something from today otherwise. A point would have been questionable though - we didn't put the work in all game and to be blunt didn't deserve anything. To take anything from today's game would have been a disservice to Peterborough.
At home we need to be opening up the score line, not responding with a goal in the 72nd minute after conceding three in the first 27.
Appleton was just as furious with the players as the 13,000 fans at Ewood were. In his press conference he described some players as ''spineless" and continued to say "There weren't players in that first half, that, for me, looked as if they were motivated to try and win a game of football" he also claimed "it answered a few questions with certain people today." His comments reflect the opinions of the fans, but his role now is to put his words into actions ahead of Tuesday's derby clash at Bolton.
Ideally, he needs to completely revamp the starting 11, replacing skipper Murphy with David Jones, and an effective new captain. I would be disappointed if we put out the same starting 11, as at the moment it simply isn't working. Since beating Arsenal, we have spiralled into a pit of apparent complacency and fear of the ball.
The fear for me is that the dream of Wembley will be shattered if we go to the Den and put in a performance like we did today. If we do - prepare to get battered. The second most important match of the season dawns upon us, as Burnley will make the short distance to Ewood on the 16th of March. In order to continue the 34 year streak of being unbeaten by Blackburn's biggest rival in Lancashire, our players need to start the match with complete focus and motivation, otherwise we could realistically, be losing to the dingles.
At the moment, there is something deeply wrong with the players attitudes towards the club and match days. It has been a fluctuating problem all season. Kean was a soft manager, who never laid into the players and unfortunately I think we are reaping the damage caused by that. Under Kean, the players could get away with dire performances, as he was a manager full of praise and always seeing the positives. We were then taken over by Eric Black (caretaker manager) and then Henning Berg - a man who simply was not right for the job, however did smash Peterborough 4-1 at their own ground!
Under Bowyer we got results and played well, but I can't put my finger on why that was, maybe it was simply refreshing to be managed by Bowyer, because I certainly didn't have Bowyer down as being an Alex Ferguson type figure in the dressing room, giving hairdryer treatment to the players if they put in a bad shift. Appleton however, is honest and realistic with the fans, and today has proven that he won't stand for such atrocious performances. At the end of the day, we need to stop blaming the managers for our losses, because although the manager sets them up the players should go out onto that pitch fighting for our club and genuinely wanting to get results for us. Clearly, that is not symbolic of a number of players recently.
I am sorry to say that despite how hard done by Rovers fans feel, a tragedy at Ewood Park earlier today may put football into perspective. One of Venky's chauffeurs (twitter name @Chauffeur2go) tragically passed away after the match following a heart attack. Yes we got stuffed today, yes our players let us down, but we all came home safe and sound. No-one should go to a football match and never come back, and my respects and thoughts go to the gentleman's family.